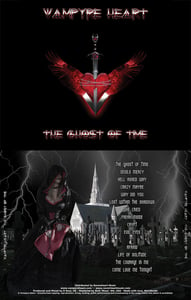 £

10.00 - On Sale
CD Artist: Vampyre Heart
CD Title: The Ghost of Time
Genre: Gothic Rock
Year: 2012
Track Order:
CD1
(1) The Ghost of Time
(2) Devils Mercy
(3) Hell Asked Why
(4) Crazy Maybe
(5) Why Did You
(6) Lost Within The Shadows
(7) She Cried
(8) Freak Inside
(9) Crypt
(10) Evil Eyes
CD2
(1) Afraid
(2) Life of Solitude
(3) The Courage in Me
(4) Come Love Me Tonight
PLEASE NOTE: IF YOU WOULD LIKE YOUR CD SIGNED BY VAMPYRE HEART, PLEASE LET US KNOW ANY SPECIFIC NAMES OR INFORMATION THAT SHOULD BE INCLUDED.
PLEASE USE THE 'CONTACT' LINK TO SEND THE REQUEST WHEN YOU PLACE YOUR ORDER.
SELECT BELOW IF YOU REQUIRE THE CD SIGNED, OR LEAVE AS UNSIGNED.